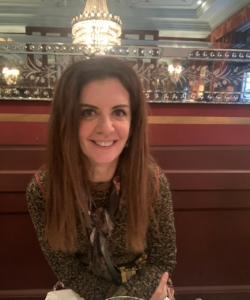 Alev Adil
Dr Alev Adil BSc., MA, PhD.
Alev Adil is a performance artist and poet who has performed, and exhibited in London including at Tate Britain, the British Museum and The Royal Maritime Museum amongst many other venues and internationally in Azerbaijan, Bangladesh, Belgium, Cyprus, Finland, France, Germany, Greece, Ireland, Kosovo, Lithuania, Romania, Russia and Turkey. The State Collection of the Republic of Cyprus purchased her work in 2020.
Adil's art, poetry, academic and pedagogic practice are multimedia, multicultural and multidisciplinary and interconnected. Adil's multimedia art practice explores the poetics of political and private memory using digital scenography to develop forms of 'Expanded Writing' that take writing off the page into shared digital and live performative spaces.
Her poetry has been included in numerous anthologies of Cypriot poetry in English, Greek and Turkish, taught on University courses in the UK, Cyprus, Greece and Turkey and been translated into eight languages. Her poetry collection Venus Infers was praised as "both a passport and a trip to new and unimagined communities" by the writer Aamer Hussein. The poet Moris Farhi judged her "a multi-cultural poet of exceptional originality" whose work creates, "by counter pointing mythology and the quotidian, an existentialism that is both modern and timeless."
She has a PhD in multimedia poetics from Central Saint Martin's, the University of the Arts and extensive experience of teaching Art, Film, Literature and Creative Writing from BA to PhD level in universities in the UK and as a visiting professor in Cyprus, Greece, Holland, Trinidad and India. Her academic publications include research into the poetics of memory, transnational literatures, and the psychogeography of her birthplace, Nicosia.
Adil is a co-editor of, and contributor to an anthology of writing from and about Nicosia, Nicosia Beyond Barriers: Voices From a Divided City eds. Alev Adil, Aydın Mehmet Ali, Bahriye Kemal and Maria Petrides, Saqi Books, London, 2019.
Pen Cyprus