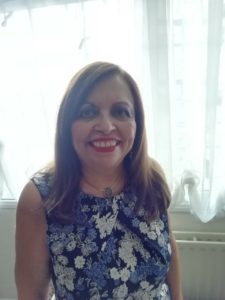 Andry Christofidou Antoniadou
Biography:
Andry Christofidou-Antoniadou was born in Limassol, Cyprus. She read French and Spanish at Queen Mary College, University of London and Educational Psychology and Education at the University of Sorbonne in Paris. She also studied at the University of Zaragoza in Spain, the University of Nice and the University of Montpellier in France and at the Erfurt Academy of Education in Germany.
She is married and she is the mother of two sons.
Profession:
She retired in 2017 from the post of Headmistress in Secondary Education. She speaks French, English, Spanish, Italian, German and Greek.
Literary genres:
Poetry, novels, plays, short stories, essays and literary research.
Literary Activities:
Her book "Federico Garcia Lorca in three dimensions" is a research carried out in Spain on Lorca. The book is archived at the Lorca Museum at Fuentevaqueros and the Lorca Foundation in Granada.
She has co-operated on the staging of Lorca's play "Yerma" by the National Theatre of Cyprus (1998) and of @Blood Wedding@ by Theatre ENA (2018) as an advisor and wrote the analysis of the play for the program of the production. Similarly, she co-operated on the staging of Alberto Conejero's @The dark stone@ (2020). She is considered as the most important researcher on Lorca in Cyprus.
Her research on Cervantes is archived in the House-Museum of Cervantes in Esquivias, Toledo, Spain, in Cervantes´ Museum in Alcalá de Henares and in Cervantes´ Museum in Valladolid.
She has given many lectures on Cypriot and European Literature as well as on Cypriot Civilization in Cyprus, in Africa and in Europe and she has brought young generation in direct contact with Cypriot Literature through her talks at schools, on radio and on television.
She is Secretary General of the Co-ordinating Committee for Culture, founder member and Vice-President of the Society of Limassol Writers, member of the International Writers Association "PEN", of the International Greek Writers Association, of the National Greek Writers Society, of the Limassol Cultural Society, founder member of the Society for Limassol Theatrical Development and founder member of the Municipal Museum - Archive and Research Centre for the History of Limassol.
Literary Awards:
Award for Excellence for the Novel "The treasure of Spain" (Best Book of the Year Award, Athens, 2020)
"The treasure of Spain" Runner up for the National Literature Prize (Cyprus, 2020)
Αward for Excellence in Poetry (Athens, 2020)
Award for Excellence for the Literary Essays "Flames and Sea" (Best Book of the Year Award, Athens, 2018)
First World Prize Winner for Literary Essay (Athens, 2017)
First World Prize Winner for Poetry (Athens, 2015)
First World Prize Winner for Poetry (Athens,2014)
First World Prize Winner for Short Stories (Athens,2014)
First World Prize Winner at the International Greek League Poetry Competition (Salonica,2014)
Award for Excellence for the Novel "The perfume-maker" (Best Book of the Year Award, Athens,2014)
Award for Excellence for the Essay "Alienation in Albert Camus" (Athens, 2014)
Third Prize Winner at the International Greek Novel Competition (Athens, 2013)
Third Prize Winner at the International Greek Essay Competition (Athens, 2013)
Second Prize Winner at the International Greek Essay Competition (Athens, 2012)
Second Prize Winner at the International Greek Play Competition (Athens, 2008)
Third Prize Winner at the International Greek Poetry Competition (Athens, 2007)
Commendation at the Delphic Poetry Competition (Delphi, 2009 and 2013)
Commendation for Poetry by the Society of European Writers and Authors (2009)
Commendation for Poetry by the Writers' Association of Northern Greece (Salonica,2008)
Commendation for Poetry by the Ministry of Northeast Aegean (Rhodes,2001)
Main Publications (Books):
A drop of sun (Poetry, 1984)
Tides (Poetry,1986)
Federico Garcia Lorca in three dimensions (Research, 2000)
The Poems of Europe (Poetry, 2003, bilingual edition in Greek and English)
Delusions (Play, 2nd Prize Winner at the Greek International Literature Competition, Athens 2008)
The rain has not stopped yet (Novel, 2009)
Alienation in Albert Camus (Essay, 2012, Award for the Best Essay, Athens 2014)
The perfume-maker (Novel, 3rd Prize Winner at the Greek International Literature Competition, Athens 2013 and Best Book of the Year Award, Athens 2014), second edition 2019
Idols (Poetry, 2015, bilingual edition in Greek and English, First World Prize Winner, Athens, 2015)
Flames and Sea (Literary Essays, 2017)
The treasure of Spain (Novel, 2020)
Cyprus in the works of Cervantes (Literary Essay, 2021, bilingual edition Greek-Spanish)
Main translations:
Τhe Poems of Europe – English, German, Romanian
Idols - English
Cyprus in the works of Cervantes – Spanish
Poems and short stories in anthologies – English-German
Tides - Serbian
Five Poems on Lorca, Spanish - academia.eu
Pen Cyprus