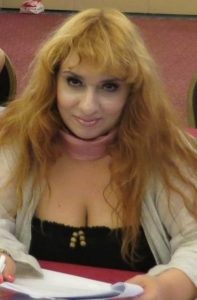 Angela Christofidou
Angela Christofidou was born in occupied Pentagia, Cyprus. She has been writing poetry since her teenage years. For her first poetry collection, The Missing Dinner Guest, consisting of poems she wrote from fifteen to eighteen years old, she was honoured by the Ministry of Education and Culture of Cyprus as the New Writer 1989.
She then published the short story Zara, In the Shadow of the Deer and the poetry collection With Green Fingers. She writes articles, essays, and studies.
In the context of the Devised Theatre method, she has written theatre plays in collaboration with the Istos Theatre Group and performed some of the acting roles.
She is also professionally involved in translating literature and theatre plays.
Angela Christofidou had collaborated with the editor of the Kriterion Magazine as an assistant editor and translator and is to date contributing to the Diorama Magazine with articles on literature and theatre, and as a contributor on issues concerning European Cultural Development, in the permanent column In the Streets of the European Union.
Through many years of work as an employee and as a freelancer in the field of culture, she has gained publishing work experience, as well as skills in managing projects at national, European and international level.
She has served as a member of the Board of the Platform for Intercultural Europe, based in Brussels. Since 2019 she is serving as the General Secretary of Cyprus PEN. Since 2013 she is participating at the International Conference on Cognitonics – The Science about the Human Being, in the context of the Information Society Conference in Slovenia. The themes of the papers she has presented:
2013: Remembrance of things past. A research hypothesis
2015: Internet Addiction Disorder. Imbalanced Neurotransmitters
2017: Terror. The Lack of Ethos – The initiation into a Distorted Mythology.
2019: Cognitonics in Plato's Cave. The Responsibility of the Creative Writer
Pen Cyprus