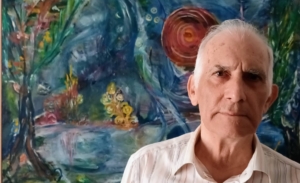 Christos Artemides
Born in Nicosia, Cyprus, on 15.1.1941. Went to elementary school, Agios Antonios, and then to the secondary school, The Pancyprian Gymnasium, 1953-1959. He studied law at Lincoln's Inn, London. When he came back to Cyprus he practiced as a lawyer and during his practice he was elected as general secretary of the Pancyprian Lawyers Association. In 1972 he was appointed district judge. After two promotions, to senior district judge, President District Court, he was appointed to the Supreme Court, 1988. In 2004 he was appointed President of the Supreme Court, until his retirement, 2008. During his tenure in office, he visited many countries attending seminars and meetings. Returning the invitations to many judges and lawyers to Cyprus.
He writes poetry from his school years, but seriously and on a steady basis since 1983, when he published his first set of poems under the title «Παρατηρήσεις»: "Observations", which was honoured by the first prize of the National Union of Greek Writers, whilst the second book «Μετάθεση» from the Ministry of Education and Culture of the Cyprus Republic. The novelette "The Interpretation", a monologue of a distinguished conductor, was presented in four performances, which were successful.
Christos Artemides is also a painter. He has presented his work in exhibitions. All the proceeds of the exhibitions went to charitable institutions.
Address: Kanari Street, 1080 Nicosia
Phone Number: 99 322 727
Pen Cyprus