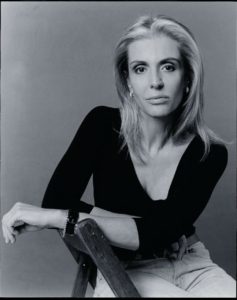 Efterpie Araouzou
PO Box 21055 1501 Nicosia
September 2004 Efterpie Araouzou represented Cyprus in the Europe Mind seminar in Utrecht invited by the European community and organized by the Minister of Culture of Holland. She delivered a speech in the university before all the members of the community. Subject: What effect would the entry of the new members have on their culture.
Over the past fifteen years she has appeared on national and Greek television and has given many interviews to the local and Greek press.
Numerous articles about her work have appeared in the newspapers in Greece and Cyprus.
English translations of her books can be obtained if needed.
Author's Summary
An award-winning novelist of the Greek-speaking world, working toward an English language debut. A proponent of magical realism, she applies an original and multifaceted use of imagery, alongside a creative experimentation with literary form, concocting singular worlds in both languages. Over the past decade, critics and scholars of Greek literature have welcomed this distinctive voice with great interest and to high acclaim. Has attracted an increasingly wider and younger audience, securing a place in the vanguard of Greek and Cypriot fiction writers.
Published Work
2002 Ginger
Recipient of the coveted Republic of Cyprus National Literature Award 2002-2003.
GREEK LANGUAGE. PUBLISHED BY OKEANIS, ONE OF GREECE'S LEADING PUBLISHING HOUSES.
Second title of a triology. The story of a pre-Dynasty Egyptian embalmer, tracing the journey of the soul from one body to another through the centuries.

"Smooth storytelling without a hint of verbosity."
TO VIMA (leading Greek newspaper) 14 July 2002

1997 Blue
GREEK LANGUAGE. PUBLISHED BY OKEANIS.
First title of a trilogy. A series of harrowing, gothic tales set in 17th century France, celebrating the power of creation as an antidote for survival.
"I would like to write a book about this book …."
Andreas Christofides*
PHILELEFTEROS (the leading Cypriot newspaper) 19 July 1997
*Minister of Education and Government Spokesman for Cyprus, Founder of the Cyprus Broadcasting Association and member of the Greek Academy
1993 Captive
First Runner Up, the Republic of Cyprus National Literary Award 1992-1993.
GREEK LANGUAGE. PUBLISHED BY ESTIA, GREECE'S OLDEST AND MOST PRESTIGIOUS PUBLISHING HOUSE.
Set on an imaginary island, the story of a woman who holds an unknown man captive. When released the man refuses his freedom,
suggesting that gaoler and captive are one.
"An achievement of economy …."
George Savvides*
TA NEA (leading Greek newspaper) 22 October 1993.
*Literary Agent and friend of George Seferis, Nobel Laureate
2013 Vivaldi's Wigmaker
Written IN ENGLISH
A new- fangled creation historic fiction tale explores baroque Venice from 1727- 1797 revealing intimate details of daily life and highlighting the historical portrait of Antonio Vivaldi through the eyes of the wigmaker of his operas Hypatia. Translated in Greek and published by Livanis the Greek publishers.
The rights for a film script series in English of the Wigmaker are (optioned) in New York. The film script is ready and is pitched out.
Contact Details:
Phone: 99685999
Email: effie@araouzou@cytanet.com.cy
Website: www.efterpiearaouzou.com
Pen Cyprus