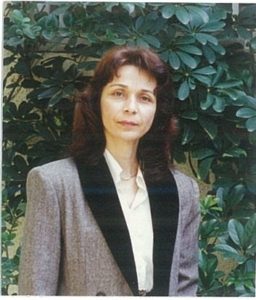 Katina Giannaki
BIOGRAPHICAL NOTE
Katina Yiannaki-Papastylianou comes from Bellapais, a village in Kyrenia district in the northern sector of Cyprus which is today under Turkish occupation. She studied English Literature, Education and English as a Foreign Language Teaching Methodology at the American University of Beirut. After winning a commonwealth scholarship she continued with post-graduate studies in Education (Psychology, Philosophy and Sociology of Education) at Flinders University of South Australia and she obtained a Master's degree in Education. From 1985 she served as a teacher of English and Psychology at the Pedagogical Academy of Cyprus, until it closed down in 1993 and then she returned to High-School Education where she served as a teacher of English and School Counsellor, retiring as Deputy Headmistress.
Educational articles and essays written by her have been published in relevant Journals. She has published the following collections of poetry: "Intimations of Eternity", Nicosia, 1984, "Knowledge of Silence", Nicosia, 1987, "Rachel's Journey", Cyprus, 1991 (received an Honourable Mention in the 1A Panhellenic Literary Competition). A further collection of poetry is being prepared for publication.
Her poetry has been honoured with first prizes in the 3rd, 5th, 13th and 14th Panhellenic Poetry Competitions, with a second prize in the 4th Panhellenic Poetry 'Competition and with a first prize in a Pancyprian Poetry Competition (2003). Poems written by her as well as reference to and review of her work have been included in Greek, Cypriot and Italian anthologies and have been translated into Italian, English and German.
Pen Cyprus