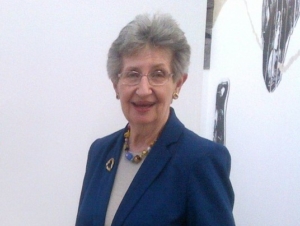 Lana der Parthogh
Lana der Parthogh was born Svetlana Matoff on 16 April 1940 at the CMC (Cyprus Mines Corporation) hospital in Pendayia. Her parents were both children of Russian refugees who fled their country after the 1917 Bolshevik Revolution and the 1919-1920 Civil War. Her father's parents came to Cyprus in 1920 where he grew up. Her mother came to the island in 1939 from Latvia. When World War II broke out her father volunteered in the Cyprus Regiment and then became an officer in the Royal Engineers. He served in Italy, North Africa and Egypt where his family joined him in 1946. In 1949 he took up an offer from the army of free transport to England for himself and his family to enter civilian life. Both her parents worked in various parts of England until 1956 when they decided to return to Cyprus.
Lana had gone to 11 different schools when in 1957, at the age of seventeen, she began her journalistic career on the English-language newspaper, the Times of Cyprus under editor Charles Foley. In 1959 she entered the annual Vogue Talent Contest and was offered a job on the magazine in London where she worked for one year. She returned to Cyprus in 1960 to marry international news photographer and journalist Georges der Parthogh, with whom she had two sons, Yervant and Masis.
She was working on the Cyprus Mail when in December 1963, Charilaos Papadopoulos of the Cyprus Broadcasting Corporation asked her to 'help out for a few days' as English newsreader because none of the English announcers were able to come to the station due to the inter-communal fighting. This 'temporary help' developed into 22 years of service at CyBC, during which she became Head of English and Foreign Language Radio programmes.
In 1974 and the following years she co-operated with the Television Department in the production of English-language documentaries including It was an Island based on her poem of the same title with music by John Vickers which was also issued as an independent record. She was one of the founding members of the Committee for the Survival of Cyprus set up by CyBC members as well as various other groups promoting the Cyprus Problem abroad. She provided the English translation for the CyBC book of photographs by Doros Partassides and text by Andros Pavlides Cyprus in Black and White: Days of Disaster.
In 1985 she resigned from CyBC to join the Cyprus Weekly as Fashion Editor and then as Books and Television Editor. She has worked on various guide books for the Cyprus Tourism Organisation and translated and edited several publications for the Bank of Cyprus Cultural Foundation, including the Guide to the House of the Dragoman and Coins of Cyprus, a book on painter Ioannis Kissonerghis and the text for various annual calendars featuring the work of Cyprus painters. She also edited the four volumes in English of Glafkos Clerides' Cyprus: My Deposition.
From 1985 to 1995 she ran a television production company called Alphascope with her elder son, Yervant which covered various news stories including the First Gulf War, the conflicts in Bosnia and Somalia and elsewhere for WTN (Worldwide Television News), ABC, Fox TV and ARD of Germany.
Her published work internationally includes the children's book Moussik (Dennis Dobson, London, 1974) under her maiden name Lana Matoff and the section on Nicosia in the German travel book series Nelles on Cyprus, issued in German, English, French, Spanish and other languages.
In 1990 she joined the Cyprus Federation of Associations of Friends of Museums (CFAFM) serving as the Cyprus Delegate to the Board of the World Federation of Friends of Museums at various international conferences until 2008. Her articles on Friends of Museums have appeared in ICOM's journal Museum, UNESCO publications, the proceedings of international conferences of WFFM (World Federation of Museums) and magazines issued by national federations. She has also been a member of Cyprus PEN since its inception. Her poem "It Was an Island" was included in the Cyprus PEN publication 60 Poimata syn Ena (60 Poems plus One) to mark the 50th anniversary of the Cyprus Republic in 2011.
After her husband Georges der Parthogh passed away in 2008, she resigned from the Cyprus Weekly after its change in ownership and continued writing on a freelance basis.
In 2011 Lana der Parthogh began research into a subject which had always interested her for years and which her husband had urged her to write about: the little-known story of how over 1,500 Russians fleeing the Civil War (including her grandfather) had been evacuated to Cyprus in March 1920 and how some remained here to set up a small Russian community. The result was the family memoir Samovar on the Table (Author House, Bloomington, Indiana, USA, 2016) based on documents from the Cyprus State Archives, local newspaper articles, personal family documents, diaries and letters which also covered Lana and Georges' professional and personal stories up to 1974.
Pen Cyprus