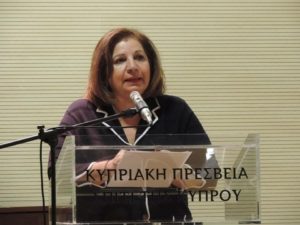 Louiza Christodoulidou
Louiza Christodoulidou was born in Limassol (Cyprus) where she completed her secondary school education. She went on to study in the School of Philosophy of the National and Kapodistrian University of Athens and continued her undergraduate and postgraduate studies in Modern Greek Literature in Paris at the University of the Sorbonne - Paris IV: Maîtrise (Master's), DEA (Postgraduate Diploma) and PhD (Doctorate).
Her research focuses on Modern Greek literature and Modern Greek literature of Cyprus, Greek women of letters-authors of Asia Minor and Constantinople of the 19th century, Identity/Alterity, historical novel, postcolonial writing, representations of Ancient Greek myth in Modern Greek literature, as well as Francophonia and adolescent and young adult fiction. She has presented papers at many conferences and her research has been published in collective volumes, conference proceedings, Greek and international periodicals in Greece, Cyprus and abroad.
Her book Aspects of Ancient Greek Myth in the Poetry of Kyriakos Charalambides was published by Epifaniou Publications (Nicosia/Athens) in 2019 and received the State Award for Study (Monograph) - Essay for Literature from the Ministry of Education, Culture, Athletics and Youth of Cyprus. Likewise, she composed the literary portrait of Eurydice Perikleous - Papadopoulou for her lifework which was published in English by PEN International, Cyprus Chapter (Nicosia, 2019).
She edited the Festschrift (with George Katsadoros) Fragments of Friendship: A Tribute to Georgios D. Papantonakis (Athens, Grigoris, 2020) which includes studies in Modern Greek and Children's Literature. She is an associate professor of Modern Greek Literature and Modern Greek Literature of Cyprus and she teaches on both the undergraduate and graduate level in the Department of Primary Education of the University of the Aegean that is based on Rhodes.
Pen Cyprus