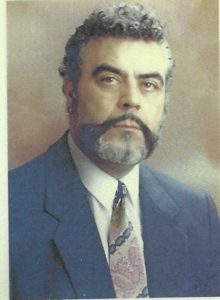 Nicos Zanopoulos
Nicosia
Nicos Zanopoulos was born in Nicosia Cyprus and brought up in Limassol.
After completing his secondary education at Lanitium communal high School in Limassol he studied chemistry at London University; for his research in Polarography, a branch of electrochemistry, with Dr. David R. Crow, he received his master of Philosophy degree.
He also studied Music and Violin with the late Donis Albanis and Yfrah Neaman.
He composed poetry, published in four books; he did extensive research in ancient Greek and Egyptian Civilization, especially in ancient Greek music, with publications and broadcasts on the Cyprus Radio.
He was in charge of a section of the State General Laboratory of the Cyprus Republic, in Nicosia, where he worked for 25 years.
In December 2008 he was awarded by the Republic of Cyprus an annual honorary bonus for his contribution in the construction of modern cultural physiognomy of Cyprus.
In January 2012 he was awarded by the Cyprus Center of Writers (PEN) first prize in a Pancyprian poetical competition at a symposium on "Historical and Intellectual Marathasa area" at Pedoulas village.
In May 2012 he was honoured by the Musicians Association of Cyprus Symphony Orchestra and by the Cyprus Symphony Orchestra Institution for his contribution, as a member of the State Symphony Orchestra, in the development of Orchestral Music in Cyprus and for making classical music widely known.
Pen Cyprus