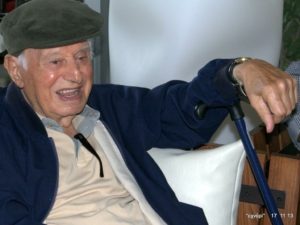 Panicos Peonides
Panicos Peonides was born in Limassol on 3 June 1925. He graduated the English School in Nicosia. At the age of 17 he volunteered in the Cyprus branch of the British army where he served for 3 years during the Second World War. He studied mathematics and physics in London and Philosophy and History of Art at the University of Sofia.
He spent 10 years (1948-1958) in Bulgaria, working as a journalist and writer. He was the director of the Greek Emission of the Radio of Sofia.
Back in Cyprus in 1958 he devoted himself in writing, journalism as well as being a leading activist in the political space of the Left. He was the first General Secretary of the Left Youth Organization (EDON), the first Publisher of the Literary Magazine Nea Epochi, the General Secretary or the Cypriot Veterans, the General Secretary of the Cyprus Peace Movement and the Vice President of the World Movement PAND (PERFORMING ARTISTS FOR NUCLEAR DISARMAMENT).
He was also appointed as the President of the Theatrical Organization (THOK) and as the Press Attache of the Cyprus Mission at the United Nations in New York.
He published 18 books of fiction and criticism two of which were honored with the First State Literary Price.
He is married to the writer Elli Peonidou and currently lives in Limassol.
Panicos Peonides - Bibliography:
ANEMOI APO TON NOTO (SOUTH WINDS), SHORT STORIES
KOUMANDARIA (SHORT STORIES)
TOMES SE THEMATA LOGOU (NON-FICTION, CRITICISM)
KYPROS NIN KAI AEI (CYPRUS NOW AND FOR EVER)
ENA ALLO ODOIPORIKO (A DIFFERENT PILGRIMAGE) AUTOBIOGRAPHY
ANDREAS ZIARTIDES, CHORIS PHOVO KAI PATHOS (WITHOUT FEAR AND PASSION) INTERVIEW
PARAKAMPTIRIOI (PASSAGE ROADS) SHORT STORIES
STO MILLENIUM (AT THE MILLENIUM) SHORT STORIES
EN PTISEI (FLYING) SHORT STORIES. (FIRST STATE PRICE)
TO ASPRO ALOGO (THE WHITE HORSE) SHORT STORIES
TO KOKKINO TRENO (THE RED TRAIN) SHORT STORIES
GALATEA, NOVEL
Η ΜΙΚΡΗ ΜΟΥ ΠΙΝΑΚΟΘΗΚΗ.
ΤΟ ΘΟΛΟ ΤΟΠΙΟ, διηγηματα (Πρωτο κρατικο βραβειο)
I MIKRI MOY PINAKOTHIKI - MY LITTLE GALLERIE (NON-FICTION)
TO THOLO TOPIO (NOT CLEAR PAYSAGE) SHORT STORIES (FIRST STATE PRICE)
I MIKRI MOU PINAKOTHIKI (SECOND VOLUME) (MY LITTLE GALLERIE)
TO PEISMA TOU HERODOTOU (HERODOTO'S INSISTANCE) SHORT STORIES
OTAN SFIGGOUN TO CHERI (WHEN THEY SHAKE HANDS) SHORT STORIES
DIALOGOI, STO LYKAYGES TIS NEAS EPOCHIS (DIALOGUES) CONVERSATION WITH 18 PERSONALITIES
Pen Cyprus