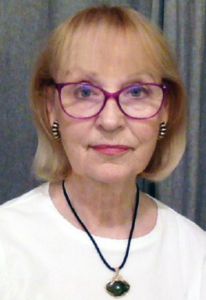 Susan Papas
Susan Papas was born in England and grew up in the Dorsetshire countryside. She worked for many years in London as co-producer on films with her partner and husband, the acclaimed film director Michael Papas.
Susan studied Middle English Literature at London University in "Chaucer and his World", and Modern Greek Language (Advanced) and Literature at the City Literary Institute in London.
She began to write poetry from an early age, encouraged by Howard Sargent of the poetry magazine 'Outposts'. Two of her poems received 'special mention' in the Keats Prize Poetry Competition and were anthologised.
After re-locating to Cyprus, she continued as co-producer on the films of Michael Papas, and was director of the Acropole Cinemas in Nicosia, part of the Europa Cinemas network. She was an Expert Advisor to the EU, assessing film projects for funding. She represented Cyprus at the special conference for film production in Mediterranean countries of Southern Europe and North Africa.
Susan has translated the work of Greek-Cypriot writers into English, in collaboration with Panos Ioannides for PEN Cyprus and IN FOCUS Magazine, and continues working with authors and organisations on a wide range of short stories, novels, plays, and poetry.
In 2023 Susan published her first novel, "The Gold Dark Summer", under the Polyorama Publications imprint.
Pen Cyprus